High-Density
and Performance, Engineered for Midsized Organizations
See how Nexsan E-Series solutions deliver up to 67,500 random IOPS and 3GB/s of sequential throughput as measured by openBench Labs in this first-ever performance benchmark testing. E-Series is designed to meet the storage challenges of midsized organizations with easy, efficient and enterprise-class solutions that provide horsepower, throughput and reliability needed in today's data centers.
Up to 240TB in a 4U space with the Nexsan E60™
Up to 192TB in a 4U shallow rack space with the Nexsan E48™
Up to 72TB in 2U with the Nexsan E18™
The E-Series maximizes efficiency, performance and reliability with a cost per terabyte that will change how you think about enterprise-class storage.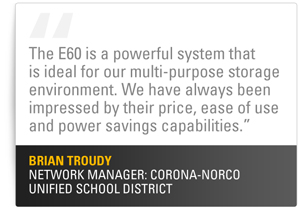 3X the density of typical arrays
SATA, SAS and/or SSD drives
Up to 87% energy savings
Your Free Information Kit Includes:
Corona-Norco case study
Nexsan Flexible Storage Platform - ESG
E-Series data and specification sheets
Storage Switzerland white paper
Nexsan Name Green IT Storage Award Winner

Registered before?

Enter your email.

First time visiting?

Please fill out the form and we will email the information to you.